The holiday season is here.
I can already smell the my mom's pecan pie!
We all know this is a busy time for everyone, but the WORST thing you can say is, "I'm waiting for the new year."
Honestly!
I hear it every year!  Don't dig yourself into a hole that you'll need extra motivation and hard work to get out of.  No need to wait, just start now!

Here are a 5 tips to help you PREVENT the dreaded weight gain this holiday season.
1. Start your NEW YEARS RESOLUTION NOW:
"Don't Let The Start Stop You."
START NOW!
Most of the members at TFW Mahopac that have made great progress and seen results did not start it after the new year. In fact they don't even make health related New Years Resolutions anymore!
Why?
Because they never stop training.
So, what you SHOULD do is wake up tomorrow morning and do something healthy. Make a good breakfast, take a walk, take a class or just go to the gym.
2. Eat BEFORE the parties
Ever heard the phrase "never go to dinner on an empty stomach?" The same applies to holiday parties. If you eat a healthy meal before heading to a party, then you are less likely to eat unhealthy foods at the party.
3. Eat vegetables and meat FIRST
Limit your desires for junk food by eating healthy food first. Eat two servings of vegetables and one serving of meat, then wait a few minutes before finishing off the rest of your plate.
Fill your stomach with the good stuff.
If you absolutely CANNOT resist the garlic bread, then have a bite or two but make sure you're full so you don't binge on it.
4. Watch what you drink.
Pay attention to how many calories are in the drinks that you consume. If you're drinking lots of soda, coffee, or other sugary drinks, these calories can add up quickly. If you drink lots of water, you'll be less hungry and have more energy. You'll also avoid the crash that comes from those sugary drinks.
5. Earn it!
Exercise more during this season! Try to workout on the days you are going to the parties and social events.
I know what you're thinking, "I work out so I can eat whatever I want right?"
Wrong!
YOU CANNOT OUT TRAIN A BAD DIET.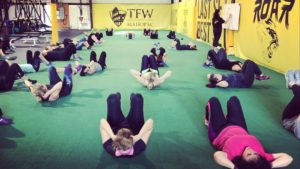 People don't just end up with a six pack by eating whatever they want whenever they want. The body just doesn't work that way.  Many people just do not realize the amount of calories they consume. They also think they burn a lot more calories than they actually do. The majority of people have no clue how man calories are in the foods that they eat, but justify all of it by spending 30 minutes jogging or doing a circuit on the machines at the gym.
The bottom line is that healthy eating and consitent exercise is the way to a healthy toned body.
So when it comes to the holidays accept that every party and event is NOT a reason to treat yourself and go off the rails!
Here's how it starts: "It's the holiday season, so I'm celebrating…" Celebrating is great, but it doesn't have to last 2 MONTHS!
The most important thing to remember is you do not turn off fitness and health in your life for two months.
Fitness is a lifestyle. If you want to get in the gym but think January is a better time, then I'm willing to bet that it's not bad TIMING that's wrong, it's the ATTITUDE.
Get ahead by staying healthy this holiday season!
Do you struggle with motivation? Are you simply overwhelmed by all of the information? Can't seem to stay on track? You CAN make that change and TRANSFORM your life!  CLICK BELOW and get on our 8 Week Transformation Pre-Sale list!